List Events a User Has Registered For
Create a personalized list of events a logged-in user has registered for. Include this in a profile or account page with easy to use shortcodes. Make it easy for users to see and manage their own events.
Restrict Events Based on Membership
Create a simple users only event or with the help of our add-on. Restrict registration to certain membership tiers. Increase conversions to memberships as well as membership upgrades with tiered events.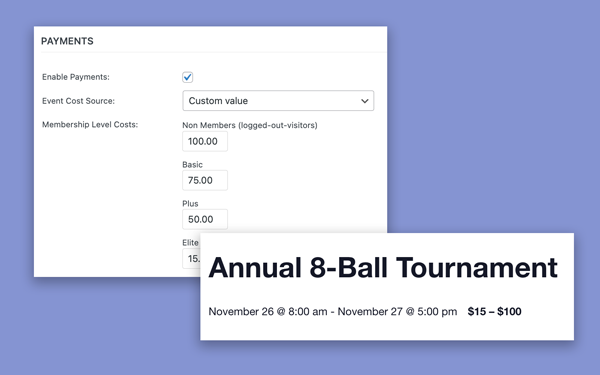 Charge Different Prices Based on Membership Status
Set custom costs for each membership tier with the help of our add-on. Provide additional value for higher membership tiers in the form of better prices to drive upgrades and conversions.
Use Membership Data in Form Fields
Pre-fill fields with membership data. Collect new membership data with your event registration forms. Make it easy for your members to complete registration without repeatedly filling out form fields.
Automatically Register New Users
If a site visitor registers for an event, a new user will automatically be created for them or an existing user account will be connected if the email address matches. Easily collect high-intent leads with a basic membership tier that all visitors can join.
Automatically Integrates with Paid Memberships Pro
With the help of our add-on, integrate with membership systems like Paid Memberships Pro. You can also use WordPress' native user system. Other membership systems may work too.